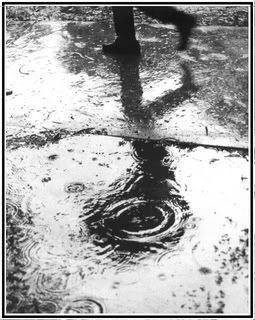 Today I am sad. Today I am disappointed. Today I am faithless. Today I am angry. Today I am frustrated. Today I asked my Father for things and He didn't answer me. I told Him that in His word it says that if I ask He will give it to me. But He didn't. I felt all these things and my mood was reflected in the weather. It was rainy and gloomy and I was soaked from head to toe. My sandels were filled with dirt that soon became mud. Rain streaked dirty trails down my face. And anger was evident on my brow. Today was not a good day.
I felt abadoned. Where was my Father? Why didn't He answer me. But as I ask myself this I know the answer. He did answer me. Just not in the way I wanted. He didn't say no but He didn't say yes. Once more I must wait. I am sick of waiting. I never want to wait again. The voice of my grandmother jumps in my ear and makes me wince, "Patience is a virtue." I am sick of virtues. I am sick of having a hole in my heart. It can only be filled when I am Home. When will I be Home! My Father doesn't answer me. But I know the answer. Wait.
Along my journey there have been times when my Father has given me exactly what I ask for. And then there are times when I feel as if I am speaking to no one. But I know that is the Evil One that whispers those thoughts in my mind. I recall a time when I sat on my mother's lap. She had told me a verse from the Book of Life before bed. As I think this I am strengthened. "Wait on the Lord; Be of good courage, And He shall strengthen your heart; Wait, I say, on the Lord!"
I am going Home. And if it takes patience to get there, so be it.