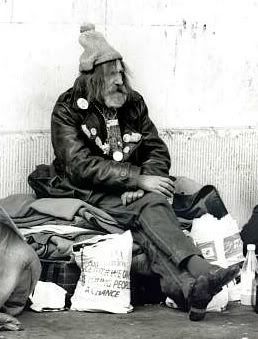 I went to Patton Towers today. On the Lord's Sabbath day. I heard a wonderful message about agape love. All encompassing love, unconditional love, willing to die for love. And it was beautiful. I went to Patton Towers today. And for those of you who don't know it, it's not the best part of downtown, the richest people don't live there. But what I witnessed there was worth it's weight in gold. I saw people who where poor and dirty and cold and they smelled funny. But they were the most beautiful people I have ever seen. And I mean that with every drop of blood, every bone in my body. I was blessed by going to Patton Towers. There was this woman, Mary, I wish I would have talked to her more. She couldn't walk right, one of her eyes were shut, she could barely talk but with what she was able to say she was praising Jesus. I asked her how she was, "Alive and kicking, praise Jesus," she said.
Praise Jesus. Praise Jesus. Praise Jesus. I must have heard it a thousand times from the lips that were cracked because they were so cold. Hands that hadn't been washed and had just finished smoking a cigarette to warm themselves up, were lifted praising Jesus. Praise Jesus. These people don't know about theology. These people don't know every word in the Bible. These people do not know the pillars of Adventism but what these people do know about, what these beautiful, real, people taught me about, was Jesus. When the glorious feet of Jesus walked this green earth I'm sure one of his many stops would have been at Patton Towers. He would have sang with them, prayed with them, and listened to them. And He would have gotten down on His knees and taken off their dirty sneakers and washed their feet. Our King, Maker of the Universe, Tamer of the seas, would have gotten on His knees and washed OUR dirt filled feet. And guess what? He probably wouldn't have had a bottle of germ-x right next to Him. Something
I
was regretting I didn't bring.
Oh yes, these lovely people taught me something today. They taught me about my Jesus. I was humbled at Patton Towers.